May 17, 2018 Workshop + Dinner Meeting
Date:
Thursday, May 17, 2018
Location:
Hyatt Regency Miami
Speaker:
Michael Dribin (Workshop), Scott Andrew Bowman (Dinner Presentation)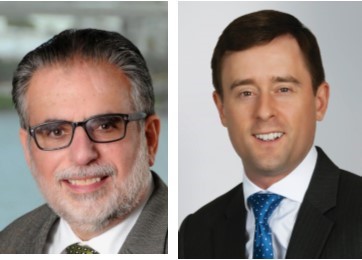 Join Us!
DATE: Thursday, May 17, 2018
LOCATION: Hyatt Regency Miami
400 S. E. Second Avenue
Miami, Florida 33131
Workshop – 5:30 – 6:20 p.m.
"2018 Florida Legislative Update"
Presented by:
Michael A. Dribin, Esq., Harper Meyer Perez Hagen O'Connor Albert & Dribin LLP
The presentation will review statutes enacted in Florida in the 2018 legislative session which are of interest to guardianship, probate and trust professionals.
Cocktails and Dinner- 6:30 – 8:30 p.m.
"International Estate Planning Following Tax Reform"
Presented by:
Scott A. Bowman, J.D., LL.M, McDermott Will & Emery
The presentation will review important tax changes resulting from the Tax Cuts and Jobs Act of 2017, with particular focus on the impact on international estate planning and related structures. This will include:
Discussion of common holding structures for ownership of US real estate by non-US investors and the consequence of tax reform on these holding structures.

Changes to the definition of a controlled foreign corporation for US income tax purposes and related consequences for inbound US investment structures.

The new "GILTI" tax and its consequences for private client structures and investments

The repeal of Grecian Magnesite and related consequences for sales by non-US investors of US partnership interests that generate US effectively connected income.
The workshop session has been approved for 1 hour of continuing education credit and the dinner presentation has been approved for 1 hour of continuing education credit for the following disciplines: CLE (Legal), CFP (Certified Financial Planners) and CPE(Accountancy)
This Meeting Generously Sponsored by
Please send your RSVP so that we may guarantee dinner accommodations for you and your guests. Be sure to include your food preference: chicken, fish or vegetarian.
Please RSVP at http://www.epcmiami.org/events/event/15481
The guest fee for this meeting is $65. You may prepay by credit card or you may pay by credit card or check at the door (make your check payable to the Estate Planning Council). As a guest, if you decide to become a member of our organization within 45 days of this meeting, the $65 will be credited toward the fee for any membership.
Membership dues include the cost of all dinners.
For more information and to receive news and updates from the Council follow us:
facebook.com/estateplanningmiami
twitter.com/epcmiami
linkedin.com/company/estate-planning-council-of-greater-miami​
We look forward to seeing you at the meeting